Track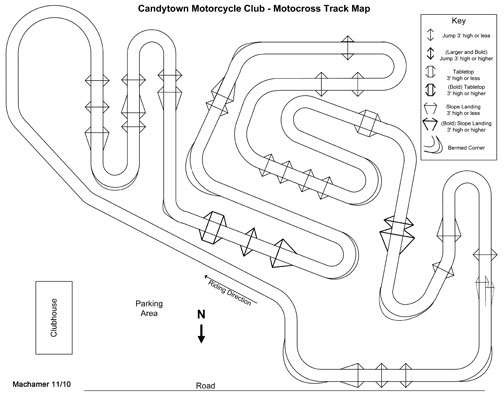 Our club offers a newly redesigned motocross track for riders of all skill levels. The track twists and turns for nearly 3/4 of a mile with double and triple jumps, bermed turns and high speed straight sections. It is maintained regularly for continuous entertainment and safety.
Note: ATVs are not allowed to race on Motocoss track.
Trials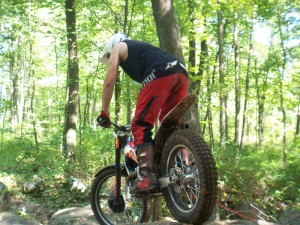 Motorcycle trials, also termed observed trials, is a non-speed event on specialized motorcycles. The sport is most popular in the UK and Spain, though there are participants around the globe.
Trial motorcycles are distinctive in that they are extremely lightweight, lack seating (they're designed to be ridden standing up) and have suspension travel that is short, relative to a motocross or enduro motorcycle.The event is split into sections where a competitor rides through an obstacle course while attempting to avoid touching the ground with the feet. The obstacles in the course may be of natural or constructed elements. In all sections, regardless of content, the designated route is carefully contrived to test the skill of the rider. In many local observed trials events, the sections are divided into separate courses to accommodate the different skill level of riders, who compete in skill-rated classes. In every section, the competitor is scored by an observer (hence the sport's name) who counts how many times the competitor touches the ground with the foot (or any other part of the body). Each time a competitor touches the ground with a foot (commonly called "dabs" or "prods"), the penalty is one point.
Read More ->
Trails
Candytown has plenty of room for you trail riders out there. They have acres of trails to keep you busy all day. They also have a hare scramble trail set up for an extra challenge. Candytown also has an event once a year for riders to compete on the hare scramble trail.
Clubhouse
Candytown has a large clubhouse with a full kitchen, gameroom, meeting area, indoor and outdoor bathrooms and an outdoor shower facility.